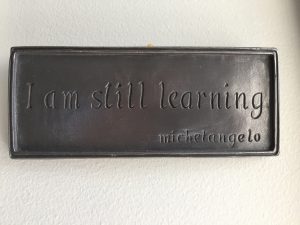 Hey friends!
The plaque in this photo above was a gift from a medical student and hangs on my wall right above my desk. It is a saying reportedly from Michelangelo that I use in teaching medical students and residents fairly often.
I even gave a speech to some graduating medical students called "I am still learning."  I don't even think Michelangelo actually said this at age 87 but the sentiment still resonates.  This post is about learning medicine.
This past week I've really been going back to school.  I'm now back from several days in San Diego at the American College of Physicians Internal Medicine conference.  ACP is my professional organization, and our annual conference brings many thousands of us together to learn about the latest in medical science, pick up tips for our practice from some of the country's top experts, and re-connect with colleagues from around the world.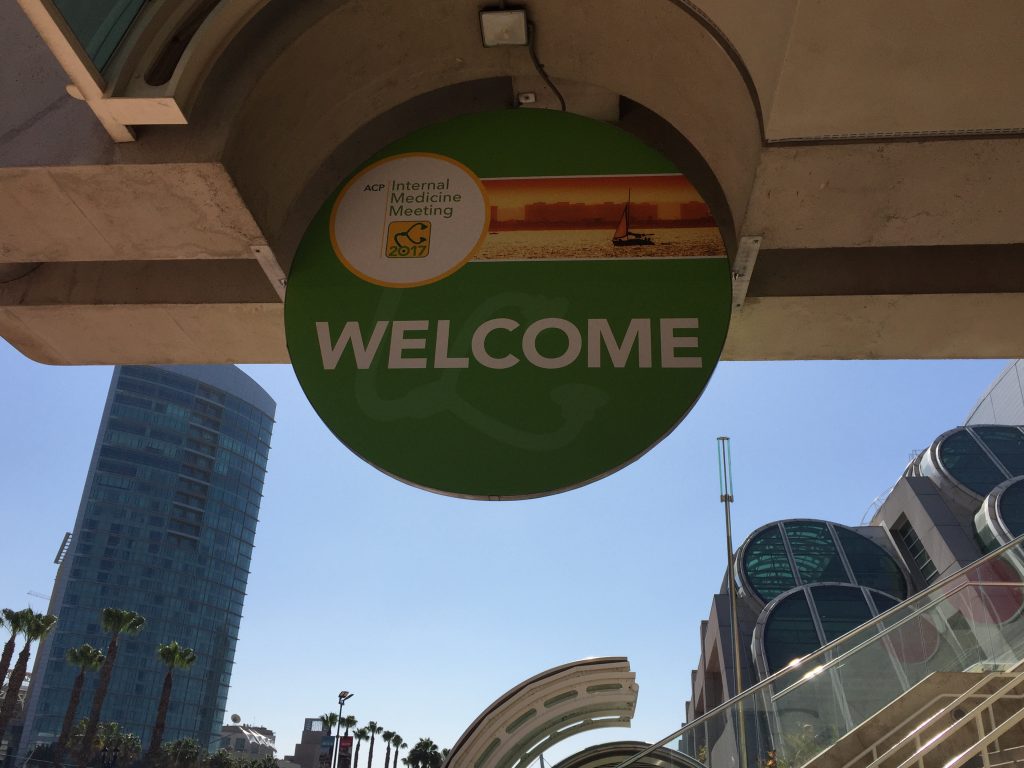 In the next several posts, I am going to highlight for you some of what I learned at the ACP conference in San Diego.  Look for short posts in the coming weeks about:
Clostridium difficile infection
Lyme disease
Zika virus
Menopause and depression
Pain control and opiates
Sleep disorders
Restless legs syndrome
Blood pressure in older adults
Antibiotic resistance
Weight loss and exercise
Iron replacement
Osteoporosis
I'll try to keep these future posts really short and helpful.
But first, cute animals
But more importantly, when I was in San Diego I also saw the koalas at the San Diego zoo.  I have loved koalas since I was a wee kid.  If you are not so interested in medical research (the subject of this post), I do encourage you to skip to the bottom of this post for a few pictures from my trip to the San Diego zoo.
I know zoo pictures are not entirely normal for a health and wellness blog, but live boldly, I say.  And I like koalas!
Back to what I was saying . . . practicing medicine is a lifelong process of learning and ACP is a great way for me to stay current on the latest in medical science.  All doctors need to do this.
So when I ran across an article from NPR, it caught my attention.  It explores nature of medical research and how it may not best serve us in promoting good health.  You can read it by clicking the link:
Or listen to the audio here:

A recent study showed . . .
How often have you heard that phrase?  I probably have used it on MyHealthyMatters in some earlier post.  After all, promoting evidence-based medicine is a value for most doctors I know.  Basically that means that whenever possible, we do tests, or prescribe treatments, or counsel patients a certain way only based on solid scientific evidence.  In other words, if there is no data (or "evidence") to support what I am recommending to you, then why should you do it?
Makes sense.
Hence the need for strong scientific research.  It is one reason I enthusiastically support publicly-funded research.  That is the noble and worthy purpose of the National Institutes of Health, for instance.  There are other prominent public funding agencies – all funded by your tax dollars.  (Editorial: please encourage your elected officials to fully fund and expand funding for NIH and other federally research programs.  Our society desperately needs this).
But with that said, we have to be careful to read too much into every study that makes the evening news.  As explained in the NPR piece above, there are great pressures on medical researchers to not only publish a large quantity of scientific studies, but also to do it quickly.  Basically do lots of research and be first to do it and you will get promoted.
So when you hear on cable news that a "prominent researcher found a link between having orange hair and the later development of lung cancer" you should pause.  Sure, perhaps the mice that they painted orange developed more cancer than the ones not painted orange, but it's a pretty big leap to conclude that people will get cancer if they paint their hair orange.  Research with preliminary findings always requires confirmation with future studies, more in-depth studies, studies that involve actual humans, studies that replicate the results of past studies, and so forth.
So should you trust the latest medical science?  I say, yes, but it is the process of research that we need to trust.  We need to demand sound medical science, which means we need to demand adequate funding for research from our government.  Private industry plays an important role as well but I believe we must demand governmental funding to ensure the best quality research.  We need to value and respect medical science and the people who make it their life's work.
But we also need to be savvy and realize that not every study you hear about is life-altering.  Just because some "national expert" said something, or just because the TV commercial says "clinical studies show" does not mean that you must 100% follow what they are recommending.
Here's a picture some guy lecturing me in San Diego showed.  OK, maybe this bit of medical breakthrough was actually was life-altering.  But it is a bit outdated, eh?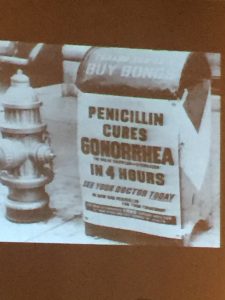 Want to see an example of solid research that is promising and happening today?  Check out my previous post about traumatic brain injury from my colleague Dr. Uzma Samadani, or this one about diabetes from my University of Minnesota friend Dr. Elizabeth Seaquist.  These two women do incredibly important research.
The exhibits are awesome at the San Diego zoo
OK, on to the fun stuff.  As you may know, the San Diego Zoo is widely considered to be the best zoo in the world.  So I tried to capture some of that awesomeness during my recent visit to San Diego.  Here's some pix I took:
Right inside the zoo gate I came across this somewhat perplexing exhibit.  Hmm. . .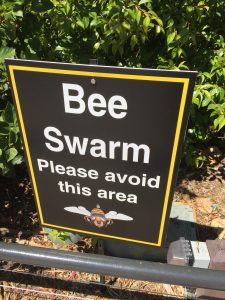 Interesting choice for a zoo with a zillion children running around . . . what could possibly  go wrong with this . . .
From the bees I moved onto the walkway where I ran across this exhibit: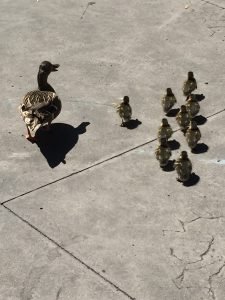 Adorable, certainly.  But these were just ducks just roaming the grounds.  I can see ducks in Minnesota.  Where are the animals, dagnabbit?  I paid fifty bucks for this!
So luckily I went to the famous panda exhibit where the pandas were on full display, as this photo proves:
There was seriously just a picture of a panda in the exhibit.  
I'm just kidding about all of this.  The zoo was awesome.  The pandas were indeed there right next door and for the life of me I don't think I've ever seen a live panda before this visit.  The koalas were adorable, the monkeys were fascinating, and the Tazmanian devil was cool sleeping just sleeping in the sun.  Great zoo.
Be sure to subscribe by e-mail to receive future post notifications, search the site for previous posts if you like, and follow me on Twitter @DrDavidHilden.
And look for quick medical tips on what I learned at the ACP conference (see the list at the top of this post).
Hope your spring time is glorious!
-David