Welcome to MyHealthyMatters!
So where exactly do you get your health information?  Your doctor?  The evening news?  Your Aunt Mildred, you know, the one with the bunion and all the answers?   Maybe you just Google it.  Cable news channels (oh, please)?  The government?  Maybe the insurance companies, since they must have your best interest in mind.   How about just asking your Mom – she was probably right all along, anyway.
I hope to help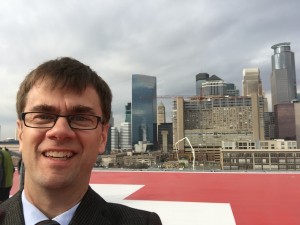 , just a little.  Let me introduce myself, and explain why I am standing on a helicoptor pad on top of a building overlooking downtown Minneapolis.  (Hint – you can tell it is Minneapolis in winter by the utter lack of sunshine).
My name is David Hilden.  I'm a real doctor, serving the good people of Minnesota and beyond at Hennepin County Medical Center (hereafter known as "the Mother Ship") in downtown Minneapolis.  We are the largest Level I trauma center in town, as well as a shining example of what health care can really look like at a safety net hospital.  When you come into HCMC (check us out at HCMC.ORG), you will get the highest quality medical care available in the United States regardless of who you are, where you came from, what color your skin happens to be, whether you be rich or poor, whether you are a longtime Minnesota native or a newcomer from Africa, without regard to how well you are insured or not insured, whether you speak English,  Spanish, Somali, Urdu, Russian, Ewe or any other language.  The good people of Minnesota, and the exceptional people of HCMC, see to it that you are cared for.
I'm awfully proud of that.
But in addition to being a real doctor, I also play one on .  . . er, not TV, but the radio.  Our radio broadcast, called HealthyMatters (get the connection with this blog name – clever, eh?) is a live, on-air, no-holds-barred, un-rehearsed bit of healthcare information for a solid hour on Sunday morning.  It is on the air that I get to chat with people near and far (one time someone texted a question from South Africa!) about health care.  Sometimes we teach a little bit, sometimes we laugh a bit, but always we do it with a sense of fun and with a commitment to providing solid medical information.
This blog and my Twitter account (hey, follow me @DrDavidHilden will ya?) are a new venture in connecting with you.  People just trying to make their health problems not the most prominent part of their life.  People just trying to do the right thing and don't know where to turn for advice.  People who are struggling with their own health and just need to know that they are not alone and that others share their concerns.  People who live with illness but will not be defined by their illness.  People who want to be informed.  And people who want to laugh a bit.  People like you.
So this blog is another way to do that.  And check out all the ways we can stay in touch:
Follow the blog:  MyHealthyMatters.org
Follow me on Twitter @DrDavidHilden
On the air:  HealthyMatters airs in the upper Midwest on Sunday mornings at 7:30 am Central Time on NewsRadio WCCO 830 on the AM dial
Live streaming:  Not in the Midwest?  No problem.  Stream the radio broadcast live at wcco.com
Podcast:  Miss a show?  Click here for podcasts of recent shows.  Listen whenever it is best for you.
Connecting health care with life and with you.  That's what  HealthyMatters is all about.  Please join me, love to get to know ya!
Oh yeah, the helicoptor pad picture – this is the brand-spanking new helistop atop HCMC in downtown Minneapolis.  They built a launching pad just for my new blog.  I'm touched, HCMC administrators, really I am.  Well, they actually built the most sophisticated helistop in the country for the good of our trauma patients, but I like to think they built it for me.  Opened in late 2015, it still has that "new helistop" smell. Welcome to MyHealthyMatters!