This post is all about wound healing, hyperbaric oxygen, and fluorescent microangiography.   Now if that doesn't get your attention . . .
Here's a preview of what you will find in this post – lots of multimedia clips and info:
Basics about leg wounds
A video about hyperbaric oxygen
A news report from TV highlighting a recent patient undergoing LUNA angiography
Links to more information
Read on!
Leg wounds are a big deal
Just about every week in my practice as a primary care physician and an acute care hospital doctor, I see people with wounds on their legs and feet.   Usually the cause is diabetes, but sometimes it is other vascular problems like arterial insufficiency, lymphedema, vasculitis, or any number of other conditions.
I'll wager that leg wounds are not something you think of very often.  Think of a life-changing medical problem and cancer comes to mind, probably stroke or heart problems.  But believe me, the effect on a person's life when leg wounds won't heal can be profound.  Sometimes they get infected.  Sometimes they cause daily pain.  Sometimes they get worse and worse and just won't heal and the only option left is amputation of toes, feet, or even a leg.  Look at the statistics on 5-year mortality (chart from HCMC Center for Wound Healing).   The chances of survival in 5 years when someone needs amputation are roughly the same as if they had colon cancer.  That is sobering news indeed.
So this is a big deal.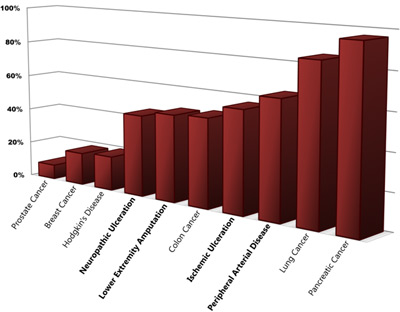 Non-healing leg wounds was our topic on this week's live Healthy Matters broadcast.  As always, if you missed the show and want to learn more, you can listen to the podcast at your convenience.  Hennepin County Medical Center, where I practice, has one of the most sophisticated wound healing programs around.  The HCMC Center for Wound Healing specializes in wounds that just won't heal, usually in people with diabetes.   To help me out, the co-Medical Directors of the center joined me on the air.  That's Dr. Tom Masters and Dr. Nikki Bauerly in the picture above.  Click on their names for more biographical information on each of them, but in short – Dr. Masters is an Emergency Medicine and Hyperbaric Medicine physician and Dr. Bauerly is a Podiatric Surgeon.  Between the two they have wound care covered!
What's a non-healing leg wound?
The whole concept may not be familiar to you.  As we mentioned on the air last Sunday, when most of use get a cut or scrape on our foot or leg, we clean it off, maybe put some antibiotic ointment on it, and it a few days it heals completely.  No problem.
But for many people, the process of wound healing isn't so efficient.  This is because
wounds need oxygen to heal, and getting oxygen to the wound requires a good blood supply.  For people with poor circulation, diabetes, or other vascular problems, the blood supply simply isn't adequate and thus the wound won't heal.  This can go on for months and months – even years – which puts them at risk for infection or gangrene.   This is why too many people end up having their toes, feet, or legs amputated.
Prevention is better than amputation
It may sound obvious, but it is really true, as Dr. Bauerly reminded us on the radio broadcast.  Her goal is always to preserve a person's limb (she even directs a care team called the Limb Preservation Program at HCMC).  So she spends a great deal of her clinical time counseling people about healthy foot care.  Some tips for keeping feet healthy, which is particularly important for people with diabetes and other blood flow problems:
Get frequent foot exams (at least annually) by your doctor.
Wear appropriate shoes to protect your feet.  If you are not sure, go to a podiatrist to get expert guidance on footwear.
Avoid going barefoot.  People with diabetes often have peripheral neuropathy which means they cannot sense when they get a slight injury.  Something as minor as stepping on a thumb tack may go unnoticed, leading to minor wounds becoming major problems.
If you get a small wound and you have vascular problems, diabetes, or neuropathy, go see a doctor for expert care.
20,000 Leagues Under the Sea
As I mentioned above, wound healing requires good circulation to bring the critical oxygen to the area.  That's why the Center for Wound Healing makes use of hyperbaric oxygen therapy at HCMC.  Hyperbaric oxygen, or HBO, is a system in which patients sit in a highly pressurized chamber, where the oxygen is delivered to the body at high pressures, thus getting it to the tissues at higher levels where it can help the wounds heal.   The pressure is sort of like being in a submarine, and the earlier HBO chambers looked like something from a Jules Verne novel.  I thought the old chamber actually looked like the Nautilus!
Fortunately, the HCMC Center for Hyperbaric Medicine uses a new chamber which is as technically sophisticated as you can get.  They shipped the chamber from Australia a few years back and it is modern, safe, comfortable, and even has an updated nautical feel.  You can read, chat with other patients, or watch movies in the chamber.   Click on the short video above from a couple years ago to get patient perspectives on what HBO is like.
LUNA and hyperbaric oxygen – the most advanced system for helping treat leg wounds
But it gets even cooler.  One of the problems when surgeons and other doctors are treating non-healing wounds is that they can't always tell the adequacy of the blood supply.  That's where LUNA comes in.  This is fluorescent microangiography, which is Dr. Masters' area of expertise.  He describes how doctors use the LUNA system to measure blood flow to the affected limb.  It uses ultraviolet machines and not x-rays.  Using the information from LUNA, Dr. Masters can work with surgeons to give them the best information about when tissue is likely to heal and when it is not.
Read more about LUNA and wound healing here.
I'll close with a personal story that made the news here in Minnesota:
This is what it is all about – delivering the best care for people in danger of problems from the wounds.
Super cool high-tech.  Super cool doctors.