Hey what's up Healthy Matters people!
On the Healthy Matters radio broadcast this week, my colleague Natalie Ikeman, MPAS, PA-C from Hennepin Healthcare's Golden Valley Clinic joined us by phone to offer some tips for staying healthy in 2019.
You know what is really cool about her advice?  It is achievable even for people like me and you!  She doesn't tell you to go to the gym 7 days a week.  Or run 10 miles.  Or eat nothing but pine cones every day. She gives advice that real people can follow.
I asked Natalie if she would be guest write this blog post and she agreed so most of this post is her words.
To listen to the podcast of the show (Healthy Matters show #523, January 20, 2019), including Natalie's portion at time 22:05, click the logo here: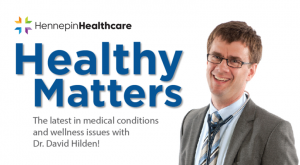 In this post you will find:
5 tips for staying healthy in 2019, by Natalie Ikeman
1.  Be more active
 Do a few laps at the grocery store before you shop
 Climb up and down your stairs between TV commercial breaks
Walking is free and go ahead and get outside!
2. Stop eating when you are 80% full
Take less when you plate your food and put your left overs away BEFORE you eat
Leave about 20% behind on your plate and put a napkin over it when done
Listen to your hunger cues, if your stomach isn't grumbling, you aren't hungry
Slow down when you eat, it takes 20 minutes to tell your brain that your stomach is full
3. Keep a food diary
Research shows that people who record what they eat are more effective at losing weight
My favorite app to do this is My Fitness Pal
4.  Drink 1 extra glass of water per day than you usually do
Keep the glass on the counter to remind you to drink
Fill up multiple water bottles in your fridge so they are easy for grab and go
My favorite apps to help remind you are Drink Water or My Water Balance
5. Practice Mindfulness
Helps you reduce stress, improve memory and decrease anxiety
You can do this through meditation, relaxation, or breathing exercises
Once you start doing this, it can become very relaxing and addictive!
---
Helpful links
The Great Slim Down program, developed by Natalie Ikeman PA-C at Hennepin Healthcare, Golden Valley Clinic.
Nine low to moderate-intensity videos for exercising, featuring Natalie from Hennepin Healthcare.
Here's more information about weight loss from a post I did in 2016.
---
This whole post is courtesy of Natalie Ikeman, MPAS, PA-C who got up on a frigid Sunday morning to call into our Healthy Matters broadcast to offer advice and to write this post.  Thanks, Natalie!
(Here's a word of advice from me:  if you live in the Minneapolis area and need a someone for weight loss or general health care, I recommend Natalie.   Click her bio page for info on how to make an appointment).
Subscribe by e-mail to MyHealthyMatters below, and follow me on Twitter @DrDavidHilden