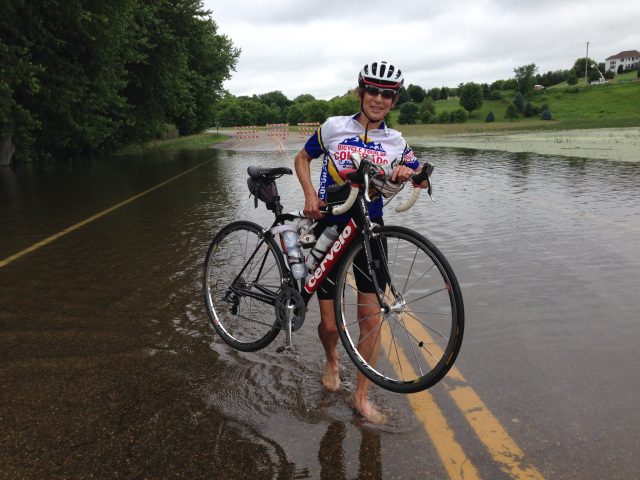 Hey, friends!
You just gotta learn about this woman.  Her name is Charlene Barron and she sounds like an incredible woman.  I also never got the chance to meet her, but I learned of her just this past week and if you were listening to the Healthy Matters radio broadcast on WCCO last Sunday, you heard about her as well.
Charlene died of a traumatic brain injury while doing something she loved – riding her bike on a training ride.  She was also a runner and a triathlete, and a lover of dogs.  I love that dog-lover part!  Charlene was just 10o yards from the Boston Marathon finish line when the bomb went off.  She has completed dozens of marathons, 30 Birke XC ski races, and 9 Ironman triathlons.  And at age 60, she competed in the World Championship Ironman Triathlon in Hawaii.
Wow.
To honor her, Charlene's family has teamed up with the TBI program at HCMC (my healthcare organization) in a really cool event.  It is Charlene's Dog Run, and it is a fun event for you (and your dog!) and is open to anybody who wants to get involved in TBI research and make a difference.  You don't have to bring your dog, but you sure can if you want to!
Dr. Uzma Samadani is a neurosurgeon and colleague of mine at HCMC.  She does incredible research on TBI and the proceeds of this event go to the TBI research program at HCMC.  Dr. Samadani called in to the radio broadcast to tell us about Charlene and the Dog Run.  Click the link at the bottom of this post to get the podcast and listen to my brief conversation with Dr. Samadani.
TBI and related links
On the show, I promised to put some links to sites you may wish to visit.  Here they are:
The HCMC news article about Charlene and the Dog Run.  I recommend you start with this link to read more.
Podcast of the Healthy Matters broadcast (Healthy Matters show #449, August 13, 2017).  Listen to the first 5-10 minutes to hear my discussion with Dr. Samadani.  We talk about Charlene, brain injury research, and an interesting bit about neck strengthening as a protective measure for TBI.
Other related links:
That's all for this post.  I hope you follow me on Twitter @DrDavidHilden.  It's fast and easy!
Rest in peace, Charlene.  You are an inspiration to us all.
---
Healthy Matters friends, next Sunday is our 450th show!  My how time flies . . . tune in to WCCO 830 on your AM radio dial or stream it LIVE from anywhere in the world at WCCO.COM
-David