Dr. Hilden is the host of "Healthy Matters," a weekly radio program on WCCO radio. "I am committed to a world in which ALL people, without exception, have access to top-notch healthcare."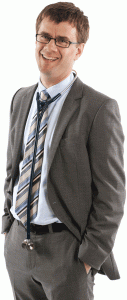 Dr. Hilden is a primary care physician and an acute care hospitalist at HCMC in downtown Minneapolis.  He specializes in chronic conditions of adults as well as acute care of patients when faced with a hospitalization.  He is the Vice President of Medical Affairs at Hennepin Healthcare and President of the Medical Staff.
Dr. Hilden is an Associate Professor of Medicine at the University of Minnesota Medical School.  He is the Governor or the Minnesota Chapter and a Fellow of the American College of Physicians.  He has been recognized as a Best Doctor by Minnesota Monthly magazine annually from 2014 to 2019 and a Top Doctor by Mpls-StPaul magazine annually from 2017-2019.  He was awarded the Minnesota Physician Communicator of the Year (2010) by the Minnesota Medical Association, the Early Distinguished Career award (2013) by the University of Minnesota Medical Alumni Society, and received the Community Service Award (2014) by the Minnesota Chapter of the American College of Physicians.  In 2017 he was named the Chapter Laureate the Minnesota Chapter of the American College of Physicians.
In addition to clinical work, Dr. Hilden holds a Master of Public Health from the University of Minnesota where his interests are in health care leadership and policy, particularly in the intersection of population health and clinical medicine.
He and his wife, Julie, are the proud parents of two college age children.  He lives in south Minneapolis and enjoys Bruce Springsteen, Beethoven, running around the Minneapolis chain of lakes, and travel.  He loves a great book and a strong cup of coffee.
Healthy Matters is a weekly live radio show broadcast every Sunday morning at 7:00 – 8:00 Central time on NewsRadio WCCO 8-3-0 AM.  Now in its 12th year, the show aims to provide scientifically accurate yet humanistic health care information in a light-hearted manner, using a mix of call-ins and expert guests from Hennepin Healthcare. It is also available for live streaming at wccoradio.COM and podcasts are available of all recent shows here on MyHealthyMatters.org blog.
Medical School
University of Minnesota, Minneapolis, MN, USA

Residency
Internal Medicine, Hennepin County Medical Center, Minneapolis, MN, USA