Photo credit: Twin Cities Public Television, tpt.org
It's been a while and I'm getting pandemic fatigue. I'm too exhausted to do much of anything, including blog posts, but recently I was fortunate to be part of something really special. Happily, my friend and terrific doctor, Dr. Jon Hallberg, has put together something to help us re-connect with the arts. Read on for a brief intro and then look for important links at the end of this post.
Jon is a doctor at M Health Fairview Mill City Clinic, just a Hail Mary pass over USBank Stadium from my office at Hennepin Healthcare in downtown Minneapolis. Jon has for years produced Hippocrates Cafe (info on the live productions here) which is a performance event that explores health care topics through the arts. I've been to a live Hippocrates Cafe and was treated to song, poetry, comedy, music, and laughter.
So I am so thankful that Dr. Hallberg, along with his colleague Dr. Renee Crichlow, a talented group of folks at Twin Cities Public Television, and the University of Minnesota Medical School Center for the Art of Medicine, has produced a virtual version of Hippocrates Cafe. It premiered last week on Twin Cities Public Television and now is streaming online. I was honored to be featured in one segment, a one-minute poetry reading of Bouquet by John Patrick Murray which you can watch by clicking the link. (Also, how cool is it that my medical school has a Center for the Art of Medicine program?)
The show also features:
A gorgeous string quartet with members of the Minnesota Orchestra, Minnesota Opera Orchestra, and the St. Paul Chamber Orchestra.
A short film on what Shakespeare really did during the plague lockdown.
A lovely piece composed and played by Covid-19 survivor Nachito Herrera
A song from the voice and soul of Minnesota favorite T. Mychael Rambo.
Porch portraits. Poignant stories from a gorgeous diversity of cultures. Incredible photography. And much more.
I suggest you take an hour and re-connect with the arts. Here are links to stream it online or watch on TV.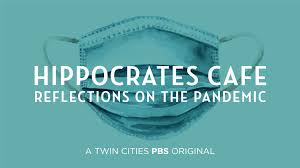 Links to Hippocrates Cafe: Reflections on the Pandemic
Thanks for checking in. And next time you hear Dr. Jon Hallberg dispense medical wisdom on Minnesota Public Radio, remember he is also a champion of the arts. Awesome.
Subscribe if you wish by entering your e-mail at the top of this page or do the Twitter thing @DrDavidHilden.
David